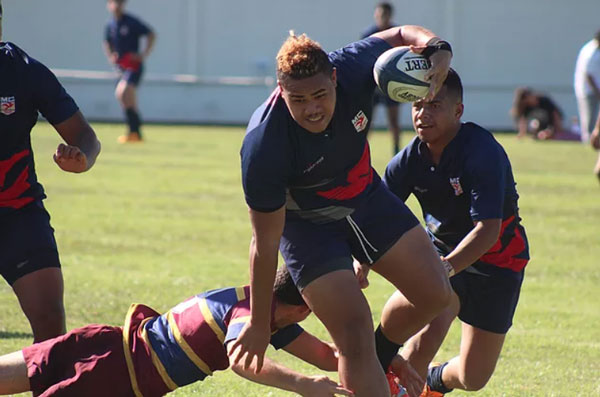 Mangere College 26 – 5 St Pauls College
Here's the thing with St Paul's even though these guys were in a rugby game, in a rugby comp, playing with rugby rules, these guys were playing a league style the whole time. The way their set moves , the way they passed, the running style, their delayed rush to the ball carrier to get over the ball everything just looked league to me. Now I dont have their roster from Saturday so Im sorry if I dont have your names down. So first thing, these guys had some real good size and they hit hard too. They had a Lock who was their Captain and was just a step or 3 better then the rest of the team and he looked like a rugby player and the thing is is that if he was going to MAGS or Auckland GS or Kelston BHS a big 1A team he would be a starting Blind Side. He was very talented and just did everything from dominating at the break down, putting the pressure on the Mangere boys to clean out the rucks because he was always a threat. His name is Jirah Moimoisea and I think he could really do well in another team, there also was the Center for ST Pauls who I thought was real good on defence and really got in the face of his opposite and the Mangere Center was also having a good game as well so it really showed up them going against each other.
I have been invited a couple of times to go watch the MC boys play and Im so glad I saw this game cause I NEEDED to see this guy play and I really wasn't let down with what I saw. Leka Tuungafasi their Captain and Head Boy was a beast and he's like every good player that goes to a school that doesn't have a big rugby program but he could or should be looked at as a NZSS Prop. He plays No.8 but when he gets into Rep sides Prop should be his position. He was very strong on the run, big fend, long strides, hard working and very very positive leader something majority 1st XV lack in NZ. He was very active in the pack even as a No.8 and he got subbed off around the 65th minute which he really came off looking like he spent all his enegry serving his boys on the battle field. I was also impressed by Year 12 Blind Side Sione Veaila who was very strong hitting the line and getting that leg drive going, he was also on the edge of the rucks locking down on tackles and driving back runners. Funaki Mahe Year 11 Prop was very physical and stood up in the scrums and really held himself well in those pressure times. I liked his work rate in the tight game and he never went out of his core role and it showed the whole game. The midfield of Raven Togiafofoa and Lucas Maiko were solid and they broke the line a couple of times which did lead to 3 tries that really changed the game in the second half.