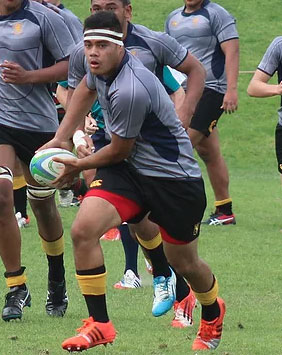 Every year I do a sort of before and after of the Comps around NZ and with the 1A starting tomorrow I will bring to you my Early 1A Team and then another at the end of the Comp. I will be picking off what they have done last year and also the Pre Season.
1. Kaynan Sitiene-Tua (Auckland Grammar School
2. Fa'a Lafaele (St Kentigern College)
3. Takaji Young-Yen (King's College
4. Waimana Kapa (MAGS)
5. Joel Vaiangina (St Kentigern College)
6. Hoskins Sotutu (Sacred Heart College)
7. Joe Johnson (Kings College)
8. AJ Mua (Kings College)
9. Carlos Price (St Kentigern College)
10. Ciarahn Matoe (Kings College)
11. Caleb Clarke (MAGS)
12. Tanielu Tele'a (St Kentigern College)
13. Bailyn Sullivan (King College)
14. Jamie Spowart (Kings College)
15. Etene Nanai (St Kentigerns)
16. Lafaele Ikenasio (De La Salle College)
17. Michael Palmer (MAGS)
18. Sam Toloke (St Kentigern College)
19. Finn Perkinson (Auckland Grammar School)
20. Sione Havili (Auckland Grammar School)
21. James Stanners (Kings College)
22. Harry Plummer (St Peters College)
23. Matt Storm (Sacred Heart College)
I think is one of the biggest front row you could get in the country including a massive bench as well. The front row has got to be pretty close to what could be included as the NZSS front row at the end of the year. Fa'a hasn't played in the Pre season because of injury but is a massive talented Hooker/Prop that can really move up the field with ball in hand. Takaji Young -Yen has not missed a beat from last years performance getting him a selection for the NZSS last year and will most likely again repeat his NZ selection. Now completing the front row Kaynan Sitiane-Tua has really put in work over the summer and has come back 15 KG's lighter and but muscled up and it really shows in his gamer work rate and will be pushing for a NZ selection this year. Lafaele Ikenasio is a young Year 13 and is on his way this year being a 3rd year 1st XV player, he is a very physical prop that holds strong in the scrums and blows out rucks clearing the way for his Halfback. Michael is much like Lafaele and he does his fare share of "tough guy" play and gets bodies out of the way for better set rucks and protects his Halfback for faster and better ball. With Sam on the bench he could add that speed to the game and add as another loosie on the field cleaning up work for him around tackle ball and rucks.
The Locking situation is not strong Nationally but in the Blues Region they have a good selection of top Locks to go with. Joel Vaiangina is back in rugby again after playing basketball for the past two years but is back and ready to go again and I think will move back in with skipping a beat. Along side him I think will be a strong candidate for NZSS selection school is Waimana Riedlinger-Kapa. A hard working Lock that plays all sections of the game and can defend in the air and get his own ball as well. His defence around the grounds is strong and puts his head in to do all the hard work. Finn Perkins is another talented long ranged player that can a lot of things on the field and is a strong leader.
The Loose forwards to me is no surprise they are 3 guys who just dominate every game and are very physical in everything they do. The 3 if on one team could take over a game on both sides of the game. They all can defend, tackle with purpose and a plan, they get themselves in position to have a dig at the ball after tackles and they hit hard. Joe Johnson and Aj Mua are both at Kings College and will be a force this season and will be interesting when they face Hoskins Sotutu at Sacred Heart this year. Then we move to the bench and when your cover could also easily start you know your Region is on point and that's what Sione Havili is a sub who could match up against the starters and maybe even better, but this is what I have selected.
Carlos Price out of St Kentigern College is my pick for Half Back, he is fast, organised, very accurate and clean pass on him and can challenge the line with his first step out of the blocks. He has very good decision making and thinks fast on his feet and also in broken down play situations. He will work well with Ciarahn Matoe being able to get players the ball faster setting up an attack and also giving it to the right players in the right situations. Ciarahn is organised and one things he does better then most is that he knows his players and the strengths they have and he play to his teams strengths individually. Both Ciarahn and Carlos come with strong kicking games which is important to have and when you have 3 with back up 1st 5/8 Harry Plummer who is very physical and aggressive on offence you team is spoiled. James will come off the bench with the fast pace and energy to finish games strong.
Bailyn Sullivan is the No.1 player in the country right now and he has amazing ball skills and offence speed and power, but what people never say about him is that his work on defence is one of the best in the country and that's including Open Sides and Blind Side Flanker who really top that list he's right up there with them. He shut down midfielders and lets nothing through, he also gets up off the ground and sets himself up to get over the ball and gets those turn overs. Tanielu is one of the best players going into contact in the country because of his foot work and his ability to get defenders on their weak side and off balance before he takes the hit which leads into breaks in the line. Caleb Clarke is also a solid pick for Center but will be mostly a winger at heart and he the best there is in the country. His partners in the back 3 with Matt Storm and Etene Nanai are just full of attack and very good kicking and attacking ability. Etene returning the ball is like he's floating and gliding along the ground and his foot work is amazing. Matt's strength in his vision to find the gaps and expose defences is strong and he also has a very good kicking game.