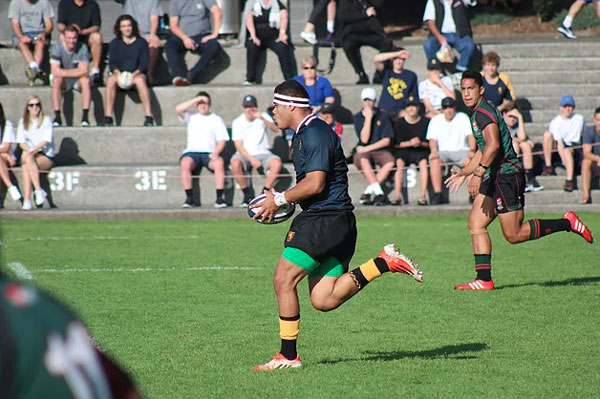 (20) Auckland GS 61 – 0 Onehunga HS
The Auckland Grammar game was a blow out and there is nothing much more you can say about it, 61 points to a doughnut that's just not up to it. I dont want to talk about Grammar to much because 61 explains that everyone played fantastic. Here is a couple of things to mention that I thought was really good by Grammar. Kaynan Sitiene-Tua's move from front row to No.8 was a massive move that really played out well for their offensive game. He broke the line for some real big runs and he also dropped back in kicking situations, covered at the right times and put himself in positions to be a runner. I also liked the work between Kaynan and Sione Taufa, Sione we all know is just a massive talents that can get a team going just like that and with Kaynan and Tovo Faleafa at Open Side that mix was working. Year 11 Cory Evans so was so controlled in getting the ball out of his hands and moving the ball down the line getting it to where it should be and his kicking and direction made all the difference for the team. He also had a very good Half Back that controlled the forwards well and made sure that they were always set moving the rucks from side to side keeping the defence confused and unorganized. Last thing that stood out to me was the communication between Callum Bean and Simeon Latu, they talked about 2 or 3 scenarios that could happen and what they would do, THEN after the movement was finished and they came back together and talked about how it went and they made changes to what they were trying to accomplish. Oh also want to give a shout out to the Props who were just all over the field and they really made a difference to the quick rucks and setting up for their turn to hit the line.
Onehunga was bad and I mean BAD, the first thing that stood out to me was that they were very out of shape, unfit and I knew they were going to be a 40 min team. The thing that annoys me is that when you watch them you know they are talented but they cant use that talent long enough because their lungs are screaming for a faked injury or penalty or something to stop the game. Now for me I was the same as Onehunga when I was young, I was talented but unfit and lazy to go do the extra stuff. Hard work beats Talent when Talent doesn't work hard. Thats what this team was talent minus the hard work in the off season. In situations like this I would have went for fitness so for me I would have had the Blind Side move into the front row with the hooker and the No.3, the No.4 lock move to open side and move the open side to blind side and get a fit lock from the bench or the 2nd XV to make a more mobile pack. The No.8 really couldnt keep up the whole game and he was doing everything so he should have been the fittest one of the lot. Thats how I would have changed the forward pack because in the 1A you have to be fit first or you just a 20 min player then dragging the team down. It was hard for the backs to really produce any back line moves because they werent even sure if they would get the ball back after a run and Onehunga only won maybe 2 scrums the whole game every other time they got pushed over. This teams success is dependent on a forward pack that moves forward and can get around the field and recover their own ball, then we will see the Onehunga talent that they do have and that can win games.