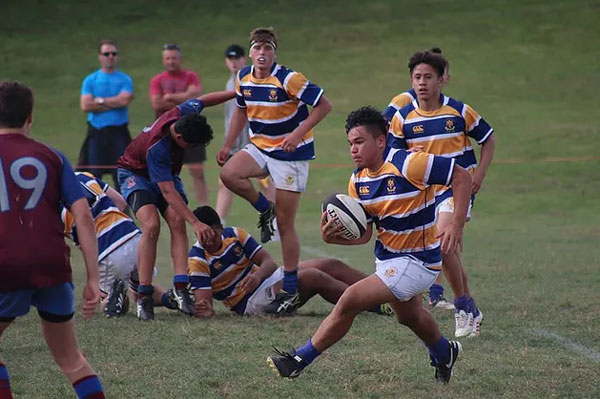 (This team is based on a concept of young talent and it's not real. Money,Travel and Time does not play a roll in this scenario so don't ask those questions)
I don't know how you would beat this team and I told you this is to easy because you think about all the Year 12's in your own school and how close they are or better then the Year 13's some of them so getting the best in the nation in one team?
EASY SON!! So this is what I have and to make clear I picked a roster that is able to inter change and swap according to the hard grind of games and also injuries stuff like that. Also there are so many players I had to leave out cause there are only so many spots in the team. I will also have a bigger schedule with harder teams so that it can seem like an all year battle.
1. JP Papani (St Kentigern College)
2. Adam Reid (Christchurch BHS)
3. George Dyer (St Pauls Collegiate)
4. Jason Embling (Burnside HS)
5. Naitoa Ah Kuoi (Wellington College) (C)
6. Kayleb Milne (St Kentigern College)
7. Albert Ngata (Aorere College)
8. Isi Manu (Dilworth College)
9. Lemeki Namoa (Sacred Heart College) (VC)
10. Dakohta Edmonds (St Kentigern College)
11. Leicester Faingaanuku (Nelson College)
12. Nakoa Marcroft (St Johns College)
13. Quinn Tupaea (Hamilton BHS)
14. Hayze Perham (Rotorua BHS)
15. Etene Nanai (St Kentigerns College)
16. Vaiese Su'a (Edgewater College)
17. Cam Huata (Napier Boys HS)
18. David Meki (Rosmini College)
19. Caleb Havili (Edgewater College)
20. Jeriah Sai Mua (Hastings Boys)
21. Griffin Culver (Wanganui HS)
22. Austin Brown (Gisborne BHS)
23. Josiah Maraku (Fielding AG)
24. William Rua (Hutt Valley HS)
25. Josiah Tavita (Hastings BHS)
26. Matthew Letonga (Tokoroa HS)
27. Glen Beardsley (Shirley BHS)
28. Miracle Naititi (Massey HS)
29. Fergus Bourke (St. Paul's Collegiate)
30. Kaleb Talamahina (Southland BHS)
I'm gonna break it down for you aint nobody in NZ 1st XV beating this team. Forwards and Backs are just stacked, loaded and Bang'n out. Hard working front row with size and power up front, George and JP who are both hard running guys that work without the ball as well, they get into their dirty work cleaning bodies out and keep the edges safe and also clear loose edge runners that try sneak through. Adam Reid is a work horse loose forward type player that tackles at a high rate applies pressure on the rucks and gets his head into the tough stuff causing trouble for opposition ball. My bench is even stacked Vaiese Su'a out of Edgewater College is a new name for you'll but he's a good one, big solid player who sets a good scrum and holds his own, very good 2nd half man who can enforce his talents with Cam Huata and David Meki in the close it out games. My front row will be moving as a unit and basically force their way up the middle clear out players in the way sucking in the loose forwards on defence to help out making space for the backs to move around. My two Locks are both like tree's in the line outs both close to the 6'6-6'7 mark and are easy to throw up in the air and get in the way of opposition ball and also with Kayleb Milne my Blind Side who is also around 6'4 – 6'5 he is another option to get up there. So for line outs a lone we'll have to many options to fail in the line outs or have it being stolen. The Locks are high working Locks that can even hit the line and get that off load out and connect for longer plays. Caleb Havili another Edgewater College guy is not as tall as the others but he gets things done and will count when it comes to the rucks and fighting for ball control.
Isi Manu, Kayleb Milne and then you add Albert Ngata to the loose trio and its over, now this trio is not going to be the real fast speedy guys around the park but when they hit you, your going to take a second look like crossing the road when you get the ball and run next time. I want it to start real physical and real in your face and to make sure that when the other team runs they will need everyone helping because my boys will turn it over with brute strength and power. My change for Jeriah Mua will come around the 60th min and just let him run a muck really, bring Isi off put Kayleb at No.8 and Albert at 6 then chop down every set piece move off a scrum. Now with the wider squad I still cant lose cause I got William Rua which I kept true tothe fast paced front row to get work done and then with guys like Matthew Letongo to come in at No.8 and Glen Beardsley in the loose I find it hard to find a weakness really and Josiah Tavita will hold it down for the front rowers.
BACKS I have to many talented backs with not enough spaces for everyone that I want to put in the team and with much talent like there is I can start everyone I wanted to start. I went with Lemeki Namoa who can play a lot of position and can do a wide range of things but I felt for this team I need someone that can adapt to everyone on the field play make for himself and also the other talents that are in the team. He can feed the forward and move the around at pace and then fire it out. For me Griffin Culver and Miracle Naititi do the similar kind of thing and so when they get on and do take control everything falls into place. I have 3 1st 5/8's in the whole squad a long with Dakotah Edmonds is Austin Brown and Fergus Bourke and I thought they were all very aggressive players who can create for themselves as well as others. I wanted guys that if they took the line on they would bend it or break it and I think these 3 do that job. I have selected very strong attacking players in the back line and so using them all and getting everyone their touches of the ball my 1st 5/8's can do so as well as kick us out of trouble if needed. Oh you cant touch the back in this team but I had to Hayze Perham on the Wing and Started Nakoa Marcroft and Quinn Tupaea only because I think Hayze would be a better winger then Nakoa and Quinn. They are all attacking guys, who work well on their own as well as with direction and could all easily play off each other ar the same time. Quinn will come out after the 1st Half and the I will change it up with Hayze and Nakoa in the midfield and then have Josiah Maraku, Leicester Fainganuku and Etene Nanai which is just to much skill. Etene is known to break ankles and score tries and so thats what he will go out and do, Leicaster is the power in that back 3 and will be the 2nd attack off broken play set up my Etene and Josiah. All 3 can play off the midfield or Hayze and Nakoa and so when breaks are made they all line up to attack open space. I also went with Kaleb Talamahina from Southland BHS so that I could keep that attack open and with his skill set be able to play him at wing and fullback if needed.
My Schedule
Top 10 Teams – 7
Top 25 Teams – 6
Top 50 Teams – 9
Unranked Teams – 1
Pre-Week 1 (37) Feilding H.S – W
Week 2 (39) Francis Douglas Memorial College – W
Week 3 (3) New Plymouth BHS – W
Week 4 (24) Palmerston North BHS – W
Week 5 (36) Marlborough BC – W
Season Starts
Week 1 (1) Kings College – W but I could see a loss
Week 2 (10) MAGS – W
Week 3 (5) St Kentigern College – W
Week 4 (15) Wesley College – W
Week 5 (28) Westlake BHS – W
Week 6 (30) Massey HS – W
Week 7 (49) Whangarei BHS – W
Week 8 (8) Sacred Heart College – W
Week 9 (4) Hamilton BHS – W but I could see a loss
Week 10 (45) St Peters School Cambridge – W
Week 11 Wanganui Collegiate – W
Week 12 (25) Scots College – W
Week 13 (12) St Pats Town – W
Week 14 (22) Nelson College – W
Week 15 (47) St Bedes College – W
Week 16 (17) Christ College – W
Week 17 (32) Timaru BHS – W
Week 18 (6) Shirley BHS – W but I could see a loss
Week 19 (2) Otago BHS – W but I could see a loss
Week 20 (18) Southland BHS – W
The hard games in this schedule would be Kings College because it's the best team in the country and it's right after Pre-Season. Also Hamilton BHS because they good but also because of the streak of hard games one after another coming out of the Blues Region. Shirley BHS and Otago BHS, your at the end of the season players are tired and with a tough schedule and so I could see a loss maybe there some where. For me I cant see this Squad losing a game to much talent, size, strength, speed, play makers and Leadership. 25 – 0 all year.