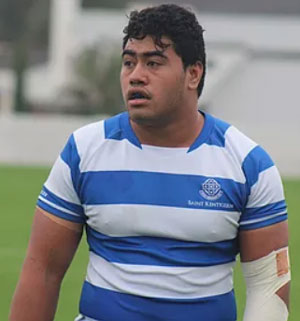 1. St Kentigern College JP Papani, Sam Toloke, Fa'a Lafaele
This front row comes correct every game and they have that all round talent and skill that all good front rowers have. Fa'a first off is a Hooker playing Prop and he still dominates and gets things done. Even though he is a big dude he still packs pace and speed in his back pack and breaks the line. Sam Toloke is a very mobile player who is not big but his work rate and speed around the field gets him respect and its not hard to see why he is imprtant to his pack. JP is kind of new to the scene not as known as the other two but has had his share of success. He is an up and coming Star and has this year to work his craft behind two Star's and be in the waiting room for Stardom next year.
2. Hamilton BHS – Austin Peperall, Tahu Hollis, Sosaia Fale
Hamilton always have their share of front rowers that actually get National known and end up gain Rep honours and this year is no different. Austin and Sosaia both have that skill set as Props that get around the field and take care of their core roles and then on the other hand have very strong running skills that gain meters every time they carry the ball. They both work as one and also put in 100% and they are paid off with tight heads and push over scrums. Tahu brings them together and glues the front row adding his speed and defence to the trio and cleans up around the rucks and applies that extra physicality to his Prop's.
3. Otago BHS – Sione Asi, Ricky Jackson, Mitchell Mahoni-Rae
Ricky and Sione are both strong contenders for NZSS selection this year and have very strong cases why they should have their names listed down. Ricky a very big Hooker that moves bodies and can take care of the rucks with strength and powering over his opponents. Sione is still a monster and has got in to shape more, dropped weight and put on muscle so he's ready to get down. Mitchell is a big solid Prop who just takes care of his job and digs in deep clearing out bodies and protectinig his Half Back on the edge.
4. Hastings BHS – Kianu Kereru-Symes, Jacob Devery, Josiah Tevita
I really like this front row because they are not the biggest front row you'll find in NZ but when it comes down to strong scrums, heavy work rate, toughness and technique, they are one of the best. Kianu one of the best Props in the country is making that push for NZSS and is still young enough to return next year. He has worked hard in the summer and it shows too, Jacob has been in the program for a minute and is very busy getting work done because he knows all the in's and outs of the position. Jeriah is a strong year 12 and really keen to see how he grows as a player through out the year.
5. MAGS – Michael Palmer, Kahu Boyd, Robert Cobb
Big boy Prop's out of MAGS and are very dominate physically, they are strong and powerful and they play on it. They are very good short runnersthat gain those around the edge runs that can turn momentum, they clean out players at a time making it easier for the pack to keep rolling. At scrum time they are strong in their setup by Boyd in setting the level and tightness for an 8 man 1 directional scrum which is through the middle. Michael is the lead man of the trio and leads with play by play example, dont sleep on this front row when the game is on the line cause they'll go to work on you.
Others Considered:
St Pauls Collegiate, Kings College, Marlborough BC, Napier BHS, New Plymouth BHS Sacred Heart College, Wellington College, St Pats Town