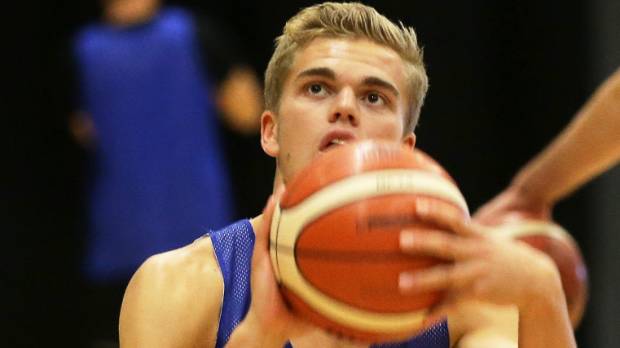 With so much backcourt talent in North Harbour this year I cannot wait to watch them all battle it out! I have chosen three senior guards from each of the major schools that I think will be key to their team's success in 2018. Rosmini leader Kruz Perrott-Hunt, Westlake's top recruit Tom Cowie, and Rangitoto defensive maestro Logan McIntosh.
Kruz Perrott-Hunt
Kruz Perrott-Hunt is one of the hottest prospects in New Zealand Basketball. The Rosmini point guard has been touted as a future star from a young age and he hasn't disappointed. Kruz has all the skills needed to go far in this game but what impresses me the most is his high IQ and leadership abilities.
Kruz is your genuine modern-day point guard, he knows how to run an offense better than anyone I have seen at the high school level but also doesn't lack the ability to put the ball in the basket when his team needs it most.
These skills just seem to come naturally to Kruz as its something he has possessed since he first stepped on the court for Rosmini. His performance against the star-studded Palmerston North Boys High team in 2016 as a year 11 was truly spectacular. His ability to lead the team, set up plays and be comfortable in pressure situations was staggering and it was here where he really stamped his mark as one of New Zealand's most promising talents.
A year on and Kruz continued to lead the way. In the national final, Mitchell Dance stole the show with his 26-point performance but Kruz's efficient 13/4/4 should not go unnoticed. He showed an incredible ability to motivate his team and direct them around the court. His ease to execute in these high-pressure situations continues to impress and now in his final year, I can't wait to see what he delivers.
Tom Cowie
If Kruz is your Chris Paul then Tom is your Damien Lillard, this kid can flat out score. Tom has been lighting it up in Southland for years, easily separating himself from the rest of the back. Toms array of offensive weapons makes him a handful for any team, he can drive to the rim and score with a variety of layups, shoot consistent from deep and if nothing is on he has the ability to draw contact and get to the line.
My biggest fear for Tom has always been if he is just able to do this because of his high usage rate and the below par opposition he is regularly up against. However, his recent performances for New Zealand age group sides has made me think otherwise as he showed that he can score against the best of them.
He does lack a little in size but his bag of tricks on the offensive side and his hustle on defense easily make up for this. Now put in a system with top-end coaching and other high-class players it will be interesting to see just how far he can elevate his game.
It's time to get excited to see what Tom could do with a full season in a top-class team. Can he take his game to a new level with quality coaching? Can he lead a team with top end talent? How will he handle having a lower usage rate? If Tom can pass these questions with flying colours look for him to push his way up the rankings.
Logan McIntosh
When you think hustle and heart you think Logan McIntosh, this guy is an absolute demon defensively. He makes up for his size with his quick feet, defensive positioning and one of the best basketball IQ's you will see in high school basketball.
Logan's rise through the ranks has been truly spectacular. In yr. 10 Logan already stood out, with his defense regularly leading Northcote College. But we all knew a move to a major powerhouse school had to be on the cards. This came in yr. 11 when he transferred to Rangitoto college, where he would join St Marys commit Dan Fotu. Hustle and defense will never get lost even in a star-studded team and this proved to be the case with Logan's steals, deflections and lockdown defense continuing to frustrate the best of teams.
Now Logan hasn't ever lacked shooting touch but his usage on the offensive side has often been low, this would all change in 2016. In the Under 17 Boys National Championship Logan would team up with his usual school rival Kruz Perrott-Hunt to make a formidable backcourt. Logan showed an excellent passing game, quality handles and a variety of scoring plays as the pair would lead the team to a national championship.
Now its time for Logan to put these skills on display for Rangitoto College. With the likes of Dan Fotu and Harrison Clarke leaving Rangitoto College, Logan is going to be called upon a lot more on the offensive side and I cannot wait to see what he conjures up. Watch out for Logan as a real standout and potential most improved player in 2018.