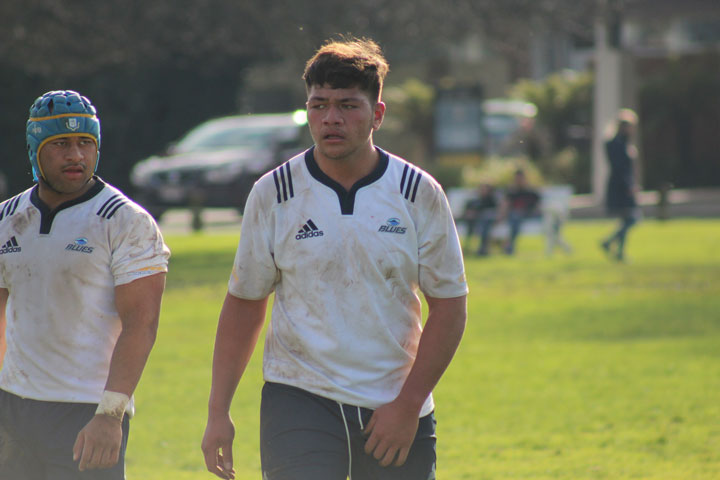 Photo: Saula Mau
Man people going to get real pissed off at me for this one because when I looked at all the players I left off, MAN there was heaps of good talent. So I have selected 13 players that are Year 12 or Young Year 13's that could actual come back to school next year which shows how much talent we have in NZ in both Year 12 and Year 13. I have selected based on who I think should be in this team not what I think they(The Selectors) will select. I have an idea who they will select because it's pretty simple if you think about it, but they select a few Year 12's in both squads not only cause they are good but also to get them ready for next year's selection of NZSS. I think that because the Barbarians dont go to Australia with the NZSS team the Fijian, Samoan and Tongan Unions based here should all select players from here as well and then play a Quad Tournament. It gives all Unions a chance to work out pretty much 100 players at a higher level.
I'll start with the front row and my massive Prop's I selected and I went in looking for size first. I know that Ethan is the real deal, so is Reon and to have Saula and Patrick with those two it gets them all at the same stage working together, add Wesley Tapueluelu and we have the "Meat Works" of Prop's. Ethan, Saula, Reon and Wesley are all massive runners with the ball and they are very mobile at the same time. Reon has had some real big run away's since making the 1st XV, he is very fast and not easy to bring down. Saula is a player that searches for his options as well to continue the play,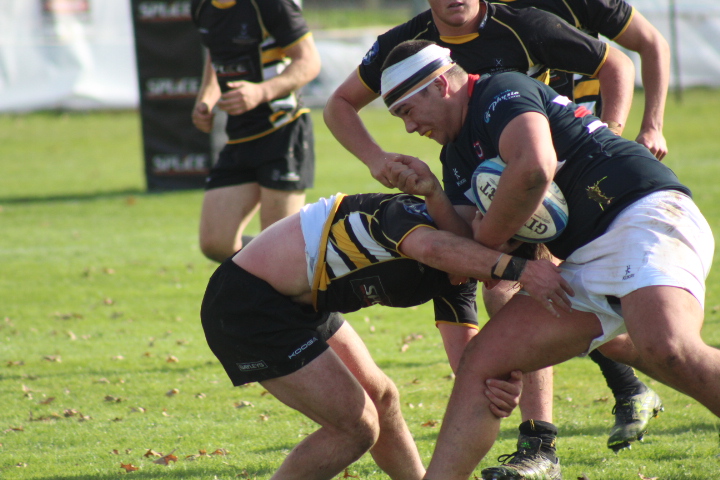 Wesley and Ethan target tacklers and just try smash them over, and they do, so I thought what a good balance that would be. Some very good Scrumming Props with Patrick and Reon, they find a good foundation in their feet and stay true to that stance, straight backs and great second push. They are good on the engagement and adjust their shoulders on impact to where they are winning. The Hookers is easy to me, Im still annoyed and I cant understand how you leave out Adam Reid, is his height a problem? not really, makes his tackles, cleans guys out, turnovers all the time and is a great leader, Im not sure what you want more from him? Then Abraham Pole a very strong changeable Hooker/Prop who is very very strong and he dominates his opposites most times and can carry the ball and do all the hard stuff as well. Billy Priestly a kid that is very athletic and mobile around the field and really is an all rounder player. He really can do a lot of everything on the field and trust worthy that he'll make the right decisions at the right times.
The Lock positions I went for hard working players with more size then height, I wanted a pack that could match pound for pound rather match the stereotype of a position. I went with Peni and Taine because they have those traits where they are not just tall but heavy, can run the ball and muscle up and move bodies. Taine a better jumper I would have jumping at one and for the ball running Lock to break tackles I would lean on Peni for that part. Alex McRobbie is the same as the other two where he is selected more on those traits of Size then height and work rate around the ground more, Ben Paulin and Tom Martin also fit those molds. I like that Ben and Tom can go into Lock and Blind and still keep to that high mobility of work rate. Ben Paulin gives you that chance to play him a position or two out from the ruck and use him as a setup runner for the midfield. Tom brings all that work to the table and he creates tidy ball and stops runners as well, like I said in my Year 12 Team he should think to move to Blind Side next year. Loosies was easy because I was real confident with Tamarau and Matt because they are easy talents to pick up and see pretty much the effect they have on games and the value they bring to a team. Tamarau is one of those guys that will leave school and some coach will see that they have an all round talented player and they will see so many options on how to use him. Matt if he stays with rugby is going to be massive, he is so hard to stop for one but then bringing him down is even worse because he'll fight to stay up right and then is good getting a pass off from his League back ground. Matt was the last player I brought down into the Barbarians from the NZSS team and if that is my mistake I'll "Cop" that because he is so good. I dont know who I would want first out of Josh Southall or Taine Te Whata, I mean who would you pick? If you have watched both it's not an easy thing to separate when choosing something like this, so good luck. Then we have Tyler Moeau that also does everything and he is just one of those guys that can do everything for your team and you dont have to worry.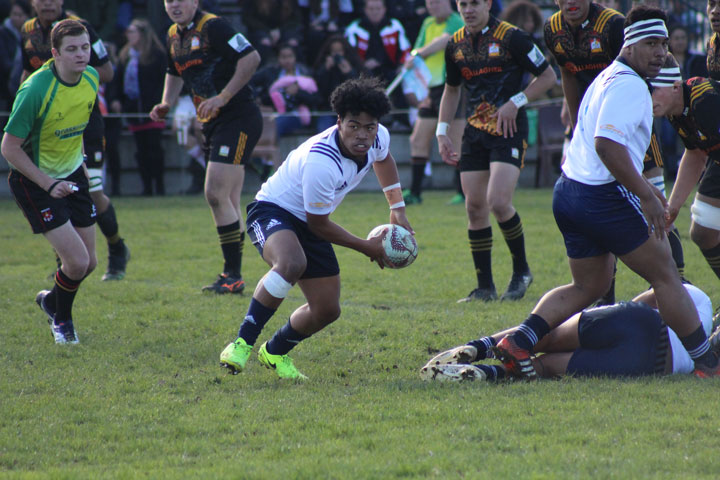 Photo: Taufa Funaki
I had to go with the St Paul's Collegiate 9/10 I think they both showed that they were capable of running a side with big talents and get them all working in the right direction. Luke has a very tidy pass and he is very accurate as well when it comes to being on the move. Ferg has a very good kicking game and does know how to use his boot to create opportunity on offence and I think in a system like this it will work. Ferg also knows to just give the ball along and let the speed of the ball create out wide. When you have real strong midfield runners and outside backs that can run, why hold the ball anyway? Taufa Funaki is an awesome replacement for Luke and with his speed and foot work that change in timing and pace of the game will really get to the other team. I put in Kienan to cover everything in the back line a long with Josiah because both can do that with their talents. Kienan plays 2nd 5/8 and Josiah Center but I think they are good wherever you put them and they make it work with pure talent. Having guys that can play in multiple positions equally well is such a great thing to have cause then you have guys like Burns Mills and James Te Pairi moving around when needed even in the game time. They will be comfortable being 1st receiver as well as second or crash ball, they can even create Pods wherever and when ever it is needed. So if you think of all the sets and Pods you can create with multi talented players man you can do so many things and switch it up when needed. I would like to see a mix of Burns and Josiah or James and Kienan just to see how they would fit together.
Dennon Robinson is a killer with the ball and can use his first step speed to blow past defenders, I think him and James would work well together and when guys like Mosese Pepa shows up on the outside as well, those lead to run away tries. Mosese and even Cody Hemi will work well because they can both attack and link together as well as work that kicking game. Mosese and Josiah would fit in an attacking system where you just bunch every attack and leave wide open spaces for both of them to work on. James Stratton would be great in a one on one situation and it would be cool to see him mismatched with others too because he's so big and you could do things with him to set him up. Rico Symes has proven in such a short time that he can play with the best out there and I know he would run well with Matthew Stevenson and even Austin Brown. They are all skilled players that make the game easier and better managed.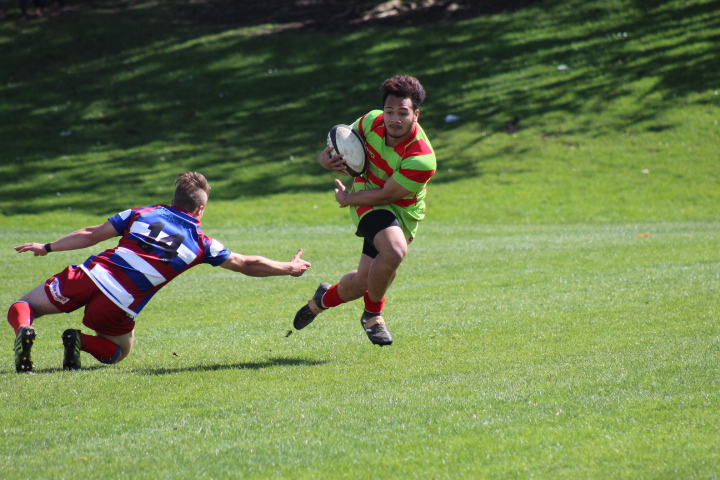 Photo: Mosese Pepa
Saula Mau (Auckland GS) Y12
Adam Reid (Christchurch BHS)
Ethan McQuinlan (Feilding HS)
Taine Plumtree (Wellington College)
Sampeni (Peni) Finau (St Peters School)
Tamarau McGahan (Rosmini College)
Taine Te Whata (Otago BHS)
Matthew Letonga (Tokoroa HS)
Luke Donaldson (St Paul's Collegiate)
Fergus Bourke (St. Paul's Collegiate)
Dennon Robinson (Hastings BHS)
Burns Mills (Otago BHS)
James Te Pairi (Kings HS)
Cody Hemi (Wanganui Collegiate)
Mosese Pepa (Aorere College)
Reon Lowery (John McGlashan College)
Patrick Thacker (Christ College) Y12
Abraham Pole (Otago BHS)
Alexander McRobbie (St Kentigern College)Y12
Josh Southall (St Pats Silverstream)Y12
Taufa Funaki (Sacred Heart College)Y12
Josiah Maraku (Fielding HS)
Kienan De La Rambelje (St Pats Silverstream)
Billy Priestley (Gisborne BHS)
Wesley Tapueluelu (St Peter's College)
Ben Paulin (Southland BHS)
Thomas Martin (Hamilton BHS)Y12
Tyler Moeau (Feilding HS)
Rico Symes (Christchurch BHS)
Austin Brown (Gisborne BHS)
Matthew Stevenson (Waimea Combined)
James Stratton (Palmerston North BHS)