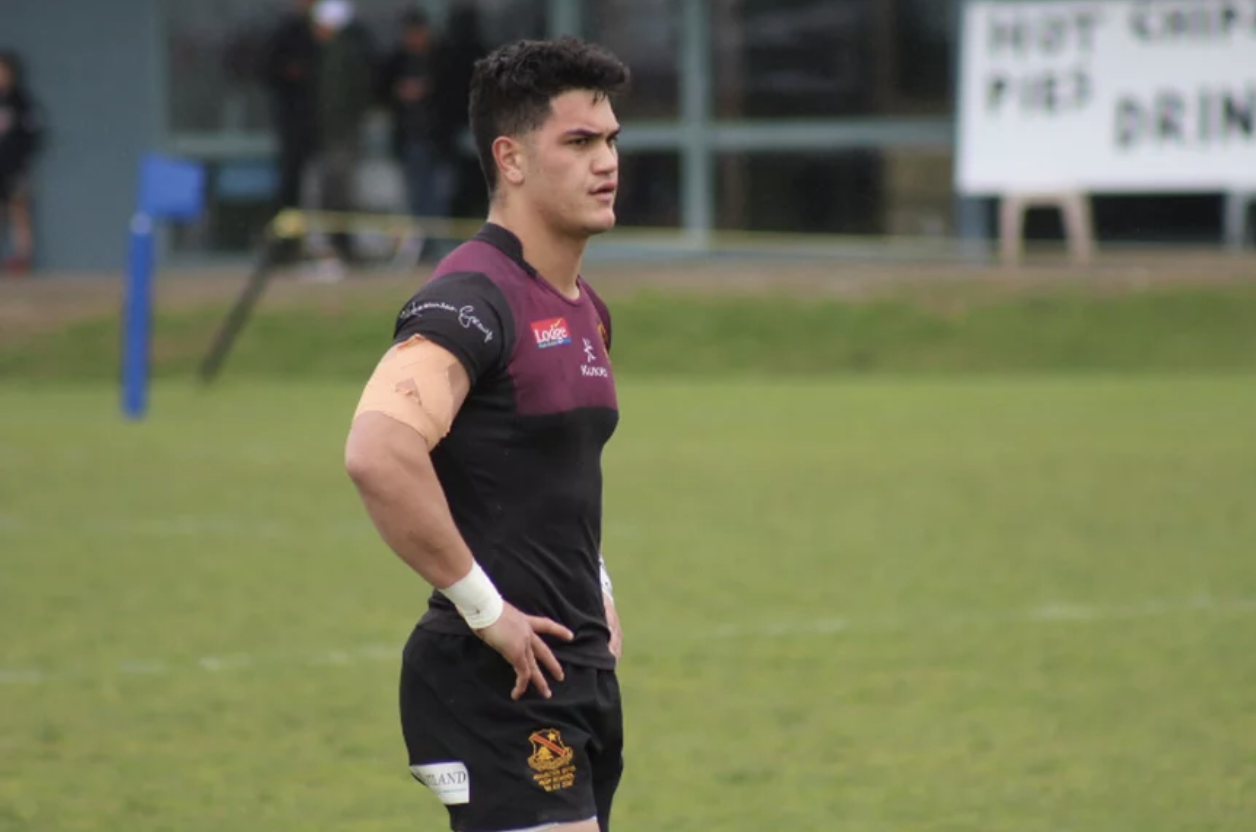 So every year we have new players come through High School Top 200 and we have some real stand out players some real once in a life time kind of players. So what I do is I update every year "My All Time Region Team". These are players that I personally think they have been the best in the Region over the past 5 years of High School players. I select what I think the best were and make a All Time team and combining them all together. Now I have chosen players that I think had great 1st XV careers and whatever they did after dosen't have any kind of effect on these teams. I am selecting from the years that High School Top 200 has been running from 2013-2017 so dont ask me about Jonah Lomu or Ben Atiga or Jeff Wilson because they were not High School Top 200 Ranked players.
Looking back at all the past players that have played in this Region I could have put up and All Hamilton BHS Team that was almost as strong because of the amount of talent and NZSS players they have had but here is what I went with for the Chiefs Region. As much as Hamilton BHS have had so many front rowers make NZSS I thought the guys I picked were the better players. 3 St Paul's Collegiate player in the mix with both past NZSS Hookers in Sam Cooper and Samisoni Taukeiaho and Prop George Dyer. One thing about all these 3 guys is that they were all great attacking players that gave you a mix of running, passing and play making, foot work and just power running. Samisoni was such a huge runner that he would over power tacklers and would hit the line with so much explosiveness that tacklers would go flying off him. Sam one of the best Hookers to come through, I thought he had more vision and play making ability then a lot of 1st 5/8's and then his willingness to back up and clean out the ruck made him a must have player. George could play a tight game in and around the rucks and could also play on the edge where he would make defencive match ups hard to work out. Reuben O'Neill was just a monster on the field and would embarrasses players physically and one of the strongest scrummagers that I have seen in 1st XV Rugby. His tight game was always something to watch around the rucks. His work trucking up the ball gaining those 3m-5m was always real important and he would get that going for the team. Aiden Ross was a player that I thought should have got more attention for what he could do on the field. He was a player that went about his business and would do a lot of clean up work and be the first to put his body on the line to keep the ball safe and in possession with real strong set at scrum time. Ayden Johnson on the other end wasn't suppose to be this good, he went from 3rd XV Hamilton BHS to 1st XV starting in a year and the NZSS the next year. Ayden scarified a lot to be in the 1st XV and it paid off with a NZSS Jersey at the end of his 1st XV Career.
In 1st XV Rugby in NZ we dont have a wealth of "Tall Timber" walking around and you would get Locks in schools only 6'2-6'3 sometimes because that is all they have to work with. The best thing about our Locks that stand over 6'5 is that they tend to be real athletes that can do everything from run with ease, have foot work, timing, can defend and make for great leaders as well. Lachlan McWhannell and Tupou Vaai have been some of the best that have come around 1st XV Rugby. These two giants made the most of everything they were given and they made it work for them. Lachlan was a very busy player in the tight game and out worked a lot of players on the field. Tupou was a once in a life time kind of player and could have come back to school in 2018 and still be Under 18. Peni Finau should have moved to St Peters School as a year 12 student and he would have been such a better player. Once Peni made the move to St Peters everything about his game changed and he became a complete Lock and surprised me how much better he got within just one year. Charles Alaimalo and Tom Florence are kind of the same player in the way they work the field. They are both 6'5-6'6, every mobile, carry the ball well, defend with everything they have and both hard working off the field and very good in the line outs. I had them both down as Blind Side Lock kind of players with a chance as No.8's. The two Jacobson brothers have always been impressive and have always shown that they could do it without moving to a bigger school and not everyone can do that. I am a big fan of Mitchell Jacobson and always liked how hard he worked on the field and he never complained about his responsibility to the team to basically carry them. I messaged Mitchell after a game and said "Bro you had a mean game but who was that No.6?" and he laughed and said it was his brother and I was like "DAMN that dude is good". Luke even though he was good I wasn't to on the high side of his game as an 8 and thought there was better No.8's around the country and so I didnt Rank him as high as I should have. Then I saw him in the NZSS and saw how good he actually was and was the most complete No.8 I have seen in 1st XV Rugby so far. He looks like the type of player that we will soon see on TV for next 10 Years.
Harrison Levien showed me that Half Backs could defend just like open sides and thats how he played every game. It was funny cause I always saw forwards get pissed off at him when he put a hit on them, then he would get up and laugh. Actually Jonathan Taumateine is the same way in his defence on the field, both guys were real high quality players that I thought should have both been NZSS players. Jonathan had the pass flying every time he saw runners coming and his accuracy was awesome. I thought the command that Harrison had was why they won a National Title and he made everyone work together. Orbyn Leger was over looked in NZSS and I couldnt understand why because his skill set was beyond just one position and he could play them all equally well. Orbyn's attacking style was something I thought changed the defence because he would break tackles because of his strength and then he would put in little kicks and skip passes stuff like that which would confuse defenders and they would end in tries. Rameka and Kaleb are similar to Orbyn in the way that you could put them anywhere and they would do a great job for you and add a positive to your game plan.
This back line would be a scary line to front up to because Quinn and Hayze are just so talented and not easy players to defend against. Personally I think these two going against each other for the past 3 years should be a "30 for 30" Doco because I think both players are going to go far in their careers. Quinn even as a Year 11 player was just to physical and to strong to be put down with just a normal tackle. He grew from a crash ball player to using his physical style to draw in defenders and he would create on the run. Hayze has underrated foot work and that doesnt get talked about but it is very very quick and once the hole opens in the defence he takes off. He also has a strong fend that he can reload just as fast as it is given, he has crated tries just because of his fend. One thing about both players is that they have stayed hungry and humble right from year 11 and they have never been selfish about their abilities and taking the credit. The back 3 would be named speed because thats what this is is just all speed and they are all line breakers. Isaac Te Aute has always had that run ability and he used it to his advantage which gave Raukura another National Title to add to the others. Having Sevu and Isaac on the wings you know that they would shut down every kick down field and that they would turn a kick into offence. All 3 of these guys just have so much attacking skill and I think that they would make it hard for any defenders to stop.
1.    George Dyer (St Pauls Collegiate)
2.    Samisoni Taukeiaho (St Pauls Collegiate)
3.    Reuben O'Neill (New Plymouth BHS)
4.    Tupou Vaai (Wesley College)
5.    Lachlan McWhannell (St Peters School)
6.    Tom Florence (New Plymouth BHS)
7.    Mitchell Jacobson (Cambridge HS)
8.    Luke Jacobson (Cambridge HS) (C)
9.    Harrison Levien (Hamilton BHS)
10.  Orbyn Leger (Hamilton Boys HS)
11.  Isaac Te Tamaki (Hamilton Boys)
12.  Quinn Tupaea (Hamilton BHS) (VC)
13.  Hayze Perham (Rotorua BHS)
14.  Sevuloni Reece (Hamilton BHS)
15.  Isaac Te Aute (Rotorua BHS)
16.  Sam Cooper (St Paul's Collegiate)
17.  Ayden Johnson (Hamilton BHS)
18.  Aiden Ross (Tauranga BC)
19.  Sampeni (Peni) Finau (St Peters School)
20.  Charlie Alaimalo (Hamilton BHS)
21.  Jonathan Taumateine (Wesley College)
22.  Rameka Poihipi (Hamilton BHS)
23.  Kaleb Trask (Rotorua BHS)