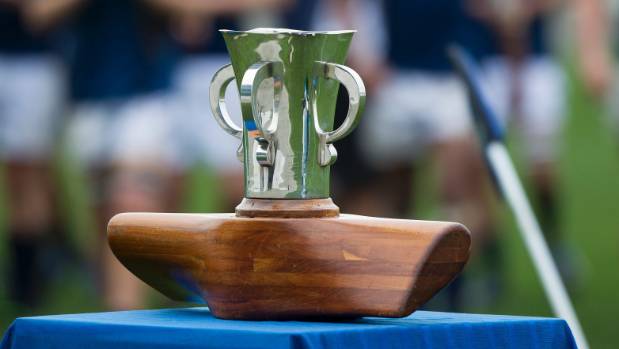 I would like to introduce you to "Moascar Cup", you may not know him or know why I am introducing you to this "Silver and Wood" prize. I want you to put your hand up if you even know what this Cup is, do you know it's a School Boy Rugby Cup? Put your hand up if you have ever played for this Cup when you were at school? If you have even played for it that's great and if you ever won it "Your the man brah!!" Cause not many 1st XV players even get to see it in person which is a massive shame and it's so hard to even put yourself into a position to even play for it that it has become forgotten by 1st XV players and it isn't even a Cup that is listed as a goal to win by teams. Here is a little bit of history for you on this Moascar Cup.
It is the oldest and was the most prestigious nationwide trophy in 1st XV rugby which came about at the end of World War One. There were ten divisions of troops, six British, three Australian and a New Zealand division were waiting in Ismailia, Egypt to be sent home. To fill time the Authorities thought sports would be a good way to kill the time while they wait to return home. They got a committee of officers together to make a team and they went out to Cairo to look for a trophy for a rugby tournament. What they came up with was a  mean as trophy made of Sterling Silver and stamped with "Made in London, 1904". The trophy was named the Moascar Cup. (Moascar was thought to be the name of a village in Egypt but it is, in fact Arabic for "camp".) So really it is the "Camp Cup" and they thought to make this a special Trophy they mounted on the middle part of a sawn off German propeller shot down in Palestine. The Moascar "Camp" Cup, was put up against a South African team, but was won by the New Zealand Mounted Rifle Brigade who won eight and drew one of its nine games.
Getting back to NZ they didn't really know what to do with it or how to continue it's challenge for it and so there was arguments about it and so they handed it to the New Zealand Rugby Union. They got a guy by the name of Lieutenant-Colonel E J Hublert, commanding officer of the Mounted Rifle Brigade to convince the NZRU to make this a Trophy that is to be held of a very high standard and it would be great it the Secondary School system because the School Boy rugby took a dive because of the war.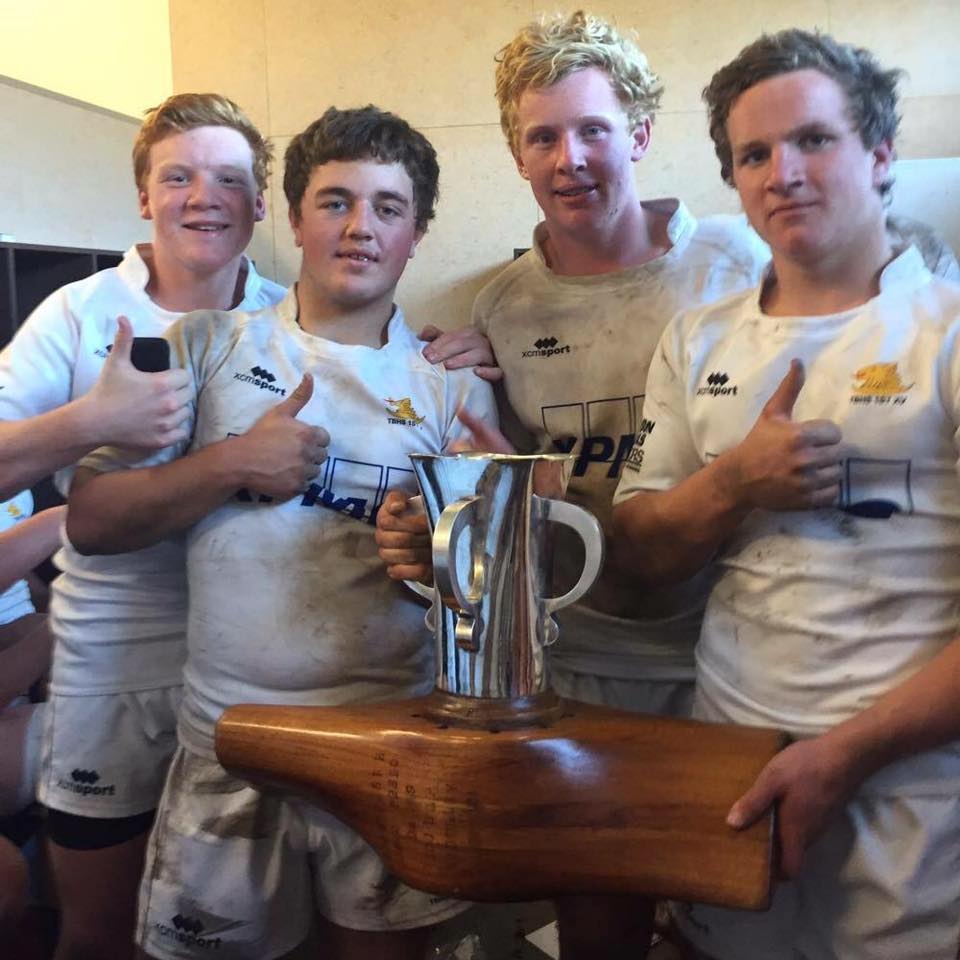 1921 First Game Christchurch BHS 1 – 0 Palmerston North BHS played at Athletic Park in Wellington. Christchurch BHS and Palmerston North BHS were winners of Tournaments in the North Island and South Island to get a shot to play for this Trophy. Christchurch BHS won that game with a lot of controversy after the game went overtime and then a conversation of how it should be decided. ANYWAY, Christchurch BHS had it in the first season 1921, then Auckland GS 1922, New Plymouth BHS won it in 1923 and held it till 1925, then Te Aute College had it from there in 1927 defending it against Palmerston North BHS and then losing it to Palmerston North BHS a year after in 1928 and so on and so on. Here is the list of all the teams that have held the Cup and how many different times they have held it for and how many years they have held it.
School(Number of Times they held it)(How many years they have held it all together)
Christchurch BHS (2) (5 Years)- "1921" "2004-07"
Palmerston North BHS (8) (12 Years) – "1928","1930-32″,"1936-37″,"1944″,"1948-1950″,"1972″, "1975" "1985"
Te Aute College (7) (12 Years) – "1927","1929″,"1933-35″, "1941-43″,"1946-47″,"1951" "1979"
New Plymouth BHS (3) (6 Years) – "1923-25", "1972", "1974 – 75"
Auckland GS (9) (11 Years) – "1922","1975-76″ "1977","1978″ "1990" "2000" "2001" "2012-13" "2014"
Northland College (3) (3 Years) – "1951", "1964", "1965"
Kaitaia College (2) (3 Years) – "1952", "1955-1957"
Whangarei College (1) (2 Years) – "1953- 1954"
Pukekohe HS (4) (8 Years) – "1958-1962", "1964", "1971" "1993"
Okaihau College (1) (1 Year) – "1963"
Wesley College (3) (3 Years) – "1970" "1981" "1986"
Papakura HS (2) (2 Years) – "1970", "1971"
Napier BHS (3) (4 Years) – "1972"  "1984-85" "2003"
Wanganui Collegiate (1) (1 Year) – "1972"
Wellington College (1) (2 Years) – "1972-73"
St Patrick's College Silverstream (1) (2 Years) – "1973 – 74"
MAGS (6) (9 Years) – "1975"  "1978" "1985-86" "1990" "1991-92" "2010-11"
Westlake BHS (2) (4 Years) – "1976-77"  "1989-90"
St Paul's College (2) (2 Years) – "1977" "2001"
St Peters College (2) (3 Years) –  "1977" "2000-01"
Kings College (2) (4 Years) –  "1977" "1995-97"
Kelston BHS (5) (8 Years) –  "1977" "1990-91" "1999" "2002-03" "2011-12"
Hamilton BHS (3) (6 Years) –   "1978" "2008-10" "2013-14"
St Stephens College (3) (4 Years) –   "1978-79", "1980" "1981"
Gisborne BHS (3) (5 Years) –  "1980"  "1983" "1993-95"
St Kentigern College (2) (3 Years) –  "1981" "1999-2000"
Tauranga BC (5) (6 Years) –  "1981-82" "1983"  "1989" "1993" "1995"
Western Heights HS (2) (3 Years) –  "1986"  "1988-89"
Church College of New Zealand (1) (1 Year) –  "1986-87"
De La Salle College  (2) (3 Years) – "1992" "2001-02"
Otahuhu College (1) (3 Years) – "1997-99"
St Bedes College (1) (2 Years) – "2007-08"
Scots College (1) (2 Years) – "2014-15"
St Andrews College (1) (2 Years) – "2015-16"
Timaru BHS (1) (1 Year) – "2016"
Nelson College (1) (2 Years) – "2016-18"
Sacred Heart College (1) (1 Year) – "2011"
Rotorua BHS (1) (2 Years) – "2003-04"
Hastings BHS (1) (1 Year) – "2004"
NO GAMES "1966-1969"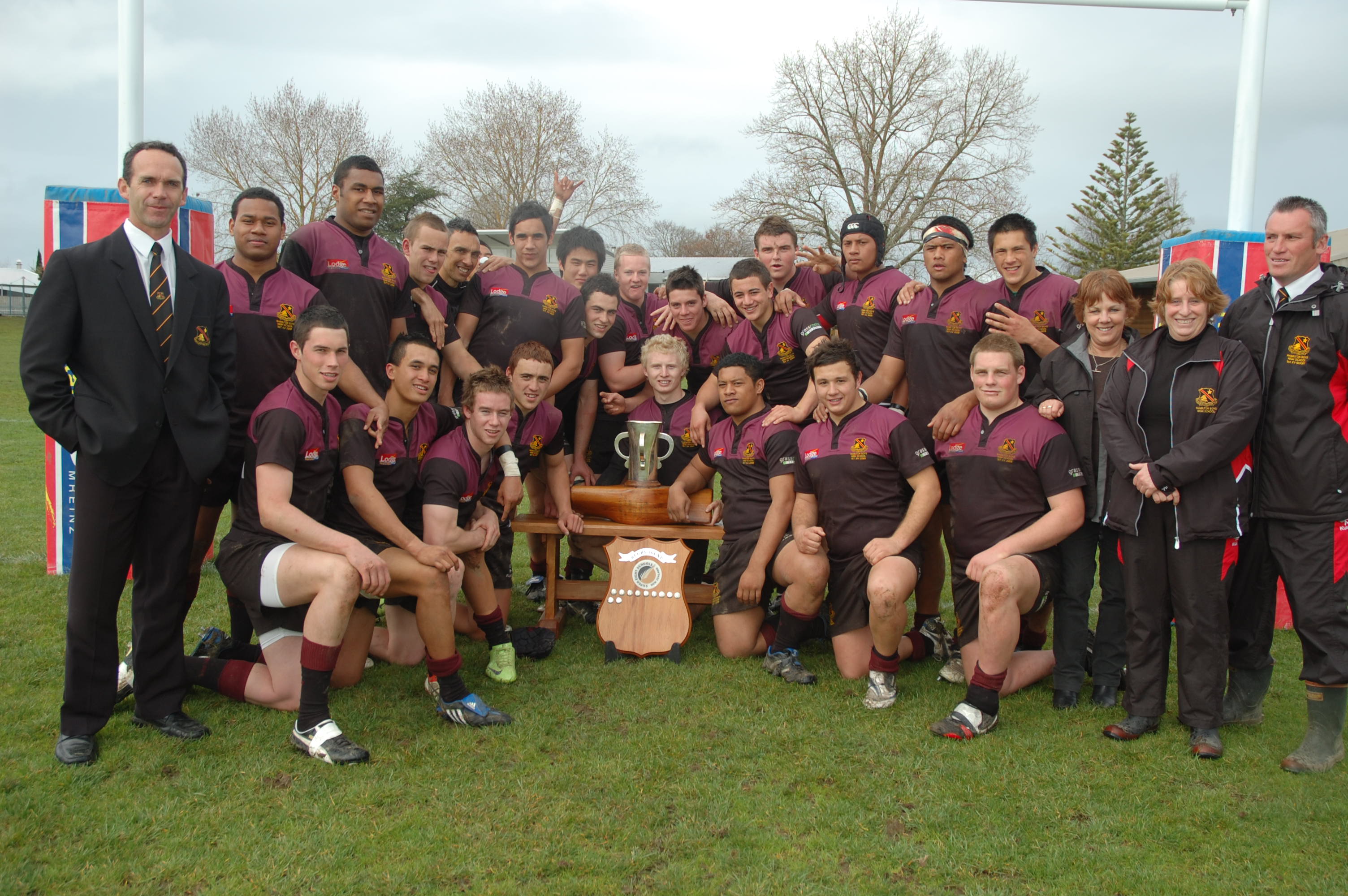 So if you can follow and understand above, it goes the School, how many times they held the Cup and how many years they have held the Cup as well. If you look at how many schools have held this Moascar Cup, there really isn't a lot of schools that have held this Cup since 1921 and the greatest rugby school of all time Church College of New Zealand (my old school) only held it one time, Terrible. The fact that Otago BHS, Southland BHS, Christ College, St Pats Town, Westlake BHS, Feilding HS have not held this Cup, to me is real bad for the "Urgency" for all players to want to win this one of a kind Cup. The reason that I say this Cup is almost Mythical is because it doesn't get put up for the challenge all the time and there is only one Cup and it gets so precious it becomes forgotten, it's like a "Where's Wally" Book that is damn near impossible to find him you are just like "stuff it" and close the book, the Moascar Cup is Wally. People will say that it's special because it is hard to get, ok i understand, but lets talk about the steps to win the Moascar Cup. Making and playing in a 1st XV team is hard enough to do and your lucky to get even one year of 1st XV, then you have to be in the right Comp with the Holders of the Moascar Cup, and if your not then hope that your schools on their Schedule to play them, then you have to actually win the game. All of that to happen is so hard that they want to make it even harder? Only 7 teams this year will have a shot at the Moascar Cup, only 7 teams because those are the rules.
For me the way something is honored, held special or in high regard is by the stories that are told about it, but there are not really any stories. No one is talking about the Moascar Cup because no one really gets to play for it or let alone see it in person at all. There is not going to be a "Moascar Cup" story passed on by majority of the players this year because no one has really had the chance to play for it. Wanganui Collegiate's "Moascar Cup" story will be started with a question, "Why wasn't the Moascar Cup put up at Quad?", and I have some thoughts on this and these are just my thoughts I could be wrong. First one will be Nelson College wasn't sure they could beat Wanganui Collegiate, simple. The second would be they didn't want to put it up against any North Island teams and wanted to keep it in the South Island and I can understand that and the 3rd is they have easier game they can put it up against that they know they can win. Whatever the case is, all I know is that the Moascar Cup is not being talked about and if it is in this case it's only a negative because I believe that Wanganui Collegiate should have had a shot at winning it.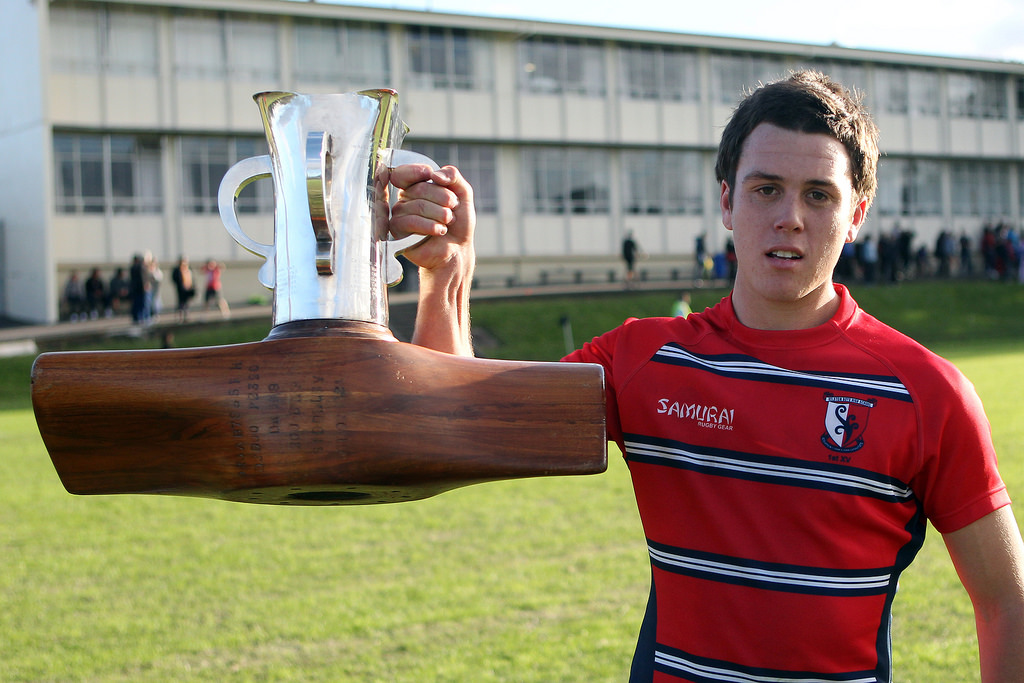 My way to fix this is a few things and the first is get rid of the 7 Games rule and make it you defend it at every home game, this means that you get that advantage. The other would be that whenever you have a game from a school from a different Island to yours you have to put it up, that last is that if you are part of a Quad Tournament of some sort or a Traditional Fixture then it's up for grabs no matter what team it is. Now this is what it fixes and makes better, It fixes the fact that it doesn't just sit at one school for ages that you just forget it exists and you just dont care anymore about trying to win the Moascar Cup. It also fixes the fact that it gets stuck in one Island the whole time and the other Island wont see it. The more movement it makes the more it is talked about and becomes something you want to have a shot at that year only if your lucky. Taking away those 7 games takes away the option of only picking stink teams to defend it against. Your 1st XV career as a player is so short that players wont even get one shot at playing for it, so why make it even harder with all these other rules and restrictions? The Ranfurly Shield is seen on TV, it's been in some historic pictures in NZ Rugby and even went "Pole Dancing" with one team and so we see it all the time. If I had not put a picture of the Moascar Cup at the top of this write up and named it players would even know what this Cup is let alone recognize it, because it's a Myth.